QUINCY, Ill. – A western Illinois couple recently celebrated the birth of their 100th  grandchild. Can you just imagine?  How do they keep track of all those birthdays?
First reported here:
Leo and Ruth Zanger of Quincy have 53 grandchildren, 46 great-grandchildren and one great-great-grandchild. The birth of great-grandson Jaxton Leo on April 8 to grandson Austin and his wife Ashleigh made the number 100.
Leo and Ruth Zanger with their 12 children and spouses. Courtesy of Zanger and Associates
Leo Zanger tells The Quincy Herald-Whig that "the good Lord has just kept sending them." He says the family "could start our own town."
"There's always room for one more," Ruth Zanger says.
The Zangers have been married 59 years and had 12 children between 1956 and 1984. The youngest, 31-year-old Joe, was already an uncle 10 times when he was born. Besides Joe, there's Linda (the oldest), Greg, Debbie, David, Donna, Steve, Mike, Daniel, Ernie, Matt and Chuck, the Herald-Whig reports.
Most of the family lives in the Quincy area. When they get together they rent a church hall and it takes 50 pounds of ham or 10 turkeys to feed everyone.
Leo and Ruth's first grandchild was born in 1975 when Linda and her husband, Kenny Hardin, had their first child, Jeannine.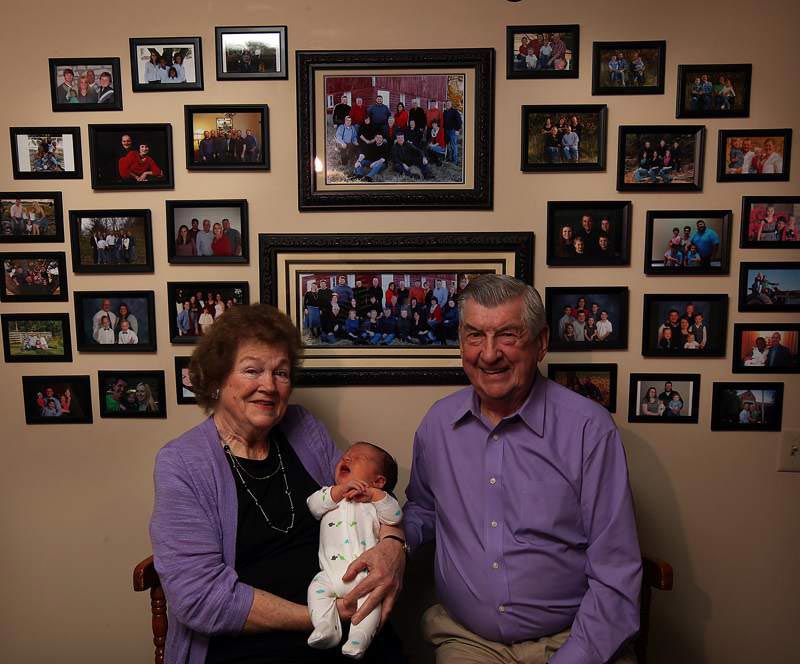 The Associated Press contributed to this report.