If you're one of the lucky ones eligible for senior discounts (at the movies, at restaurants, while traveling, etc.) but don't need the savings, there's a new way to funnel those discounts to charity.
Launched late last year, Boomerang Giving is an online service seniors can use track how much they save from their discounts and bounce those savings back to the charity of their choice. People over the age of 68 are known for their generosity; they donate to charity more than any other age category, making up roughly 1/4 of all givers.
And, giving is good for your health. A study published in the International Journal of Happiness and Development concluded that people feel good when they make a charitable donation—especially through a friend, relative, or social connection. Another study, at Harvard, found that donating to charity could actually increase physical strength. So if you need a new social connection who is doing good works, you can find a circle of baby boomers giving online.
Launching the Boomerang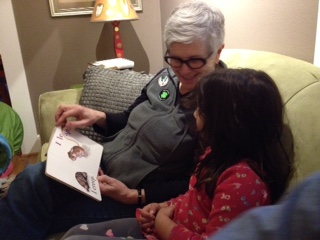 My four-year-old granddaughter, Eliana, has a wonderful bedtime ritual: every night, whoever is putting her to bed, reads her three books. Three books. Not one more or one less. If it's her father, the books are in Spanish; if it's her mother or grandfather (aka Paulie) or me (aka Kukie), they are in English. A highlight of any trip to visit her is being the person who gets to put her to bed and read to her. Eliana always picks the books – and she's careful to be sure that Paulie and Kukie get ones in English.
I've been thinking a lot about how to build on this special bedtime ritual and also begin to pass on to Eliana some of our family's deeply held values. One, of course, is the value of reading – and snuggling up with a preschooler to read is hard to beat. Another deeply held value is giving to others, especially to those who do not have as much as we have. So, how to use Eliana's love for her bedtime ritual of reading to start to talk about giving?
Here's my great idea: How about including Eliana in my tally of senior discounts and my decision of how to redirect the savings? What if we redirected my accumulated savings for a month to an early literacy program? (A longer time period would be nice, but it's hard to ask a four-year-old to wait too much beyond a month to see the results of a project.)
We're off to see Eliana next week and I'm excited to talk to her about this idea. I'm not sure she will understand the concept of senior discounts, but I'm confident she will be excited by the possibility of helping other kids have books to read at bedtime. I also think she'll get a kick out of helping me record my discounts (a strange genetic predisposition) and talking about programs that provide books to children who do not have many to read at home. One of my favorites is Reach Out and Read, a highly-acclaimed national program where doctors provide books to children at each of their well-child visits. It's a terrific way to get books in the hands of all children!
I'll report back in a future blog on how this project goes. It's hard not to imagine only good results: at a minimum, I'll be talking to my granddaughter about giving, and some children will have more books than they would have had otherwise.
~ Elaine VonRosenstiel
"Senior discount please."
Boomerang Tales
Inspire others! Send us your story!